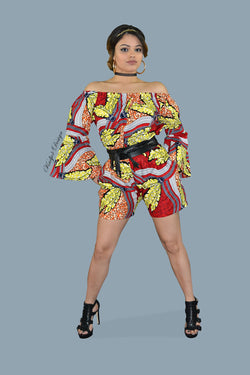 African Print Yola Romper
Cute and chic, this jumpsuit is the perfect go-to for your upcoming events.
Fabric: African Print-100% Wax Cotton
Off-the-shoulder neckline
Long sleeves
Elastic waistband width: 3 inches
Side pockets
Inseam: 6.5" approx
Care instructions: Dry cleaning or hand wash cold or machine wash cold. Do not bleach. Hang dry. Press with hot iron.
Note: Product is: African Printed jumpsuit. Nothing else is included